days
hours
minutes
seconds
days
hours
minutes
seconds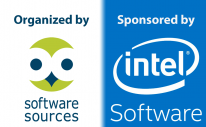 Intel® Software Development Workshop for Enterprise and HPC Computing
21/11/2019 | Hilton Tel Aviv
Join us for a day of technical sessions on Software Development, Parallel Programming, Code Performance Optimization, Analytics, and Machine Learning.
Meet our experts and learn about the upcoming Intel® oneAPI toolkit and deep dive into the latest release of the Intel® Parallel Studio XE tools suite.
Please bring your own Intel® based laptop. During some of the sessions, you will have the opportunity to test-drive the tools yourself (no software installation required, everything will be in the Cloud).
Attendance is free of charge, but seats are limited. register today!
After your registration, we will confirm your attendance by e-mail.
Hilton, 205 Hayarkon st. Tel Aviv
On the Agenda:
// What you should know about the Intel® oneAPI project and the new Intel® Parallel Studio XE 2020
// A look at the Intel® Hardware Architecture for Software Developers and Architects
// Developing code for Intel® architecture: how to achieve maximum performance
// High Performance for Machine Learning
// Software performance optimization using Intel® Advisor
// LAB: Advanced profiling of applications using Intel® VTune™ Amplifier
Optimize Your Code
In the modern environment, Creating optimized, scaleable and efficient code is key.
Make sure you are on the right track.
Learn from worldwide experts
The workshop will feature leading engineers from Intel and Bayncore, delivering up to date work practices.
Ask Live Questions
Every situation is unique.
We learn at a different pace, come from varied backgrounds and work on diverse systems.
Get the opportunity to ask your questions. In person.
Ralph de Wargny
Intel Software
Global Business & Marketing Leader. AI & Tech Expert. Wine Entrepreneur.
Michael Steyer
Technical Consulting Engineer, Intel
HPC & AI Technical Consulting Engineer at Intel Corporation
Stephen Blair-Chappell
Intel Platform Director, Bayncore Labs
Technical Director at Bayncore Labs
Jimmy Kromann
Senior Consultant, Bayncore Labs
Postdoctoral Researcher in Quantum Chemistry & Machine Learning
Anders Christensen
Senior Consultant, Bayncore Labs
Postdoctoral Researcher at Universität Basel
Looking for something else?
Questions? We love to help...
Copyright © 2019 Software Sources